Working with Us
DFPCL is an employee centric organisation and believes that to build a successful and growth driven organisation, it must place its people and strategy on top precedence. We believe in investing in our employees as they are the key to building foundation of a successful organisation.
Our employees are the single most important driver for organization growth. We appreciate the importance of different points of view in building a vibrant culture where everyone feels valued. We are an equal opportunity employer and comply with all applicable laws prohibiting discrimination or harassment against any applicant or employee.
We are constantly looking for professionals who befit the culture of our organization and have an undying spirit to reach new heights in their professional careers. We stand by the values that made us who we are today. They've shaped our culture, our work ethics, and our decisions; helping us push the envelope and be more than what we were yesterday.
Ways of working (WOW)
Our WOW defines who we are, what we stand for, and how we behave.
While we come from different backgrounds and cultures, our WOW is what we have in common. They guide how we work with our stakeholders and each other, inform the type of work we do, and hold us accountable to do our best. They govern our actions and determine our success.
Our WOW helps us to enable business transformation and to build the organization for the future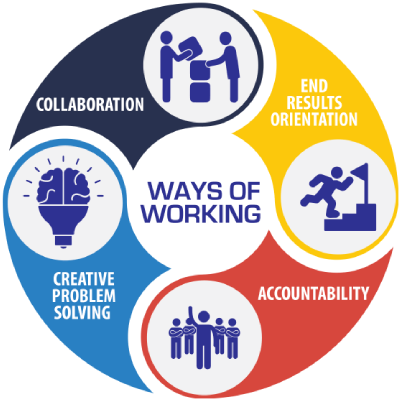 Collaboration means;
Going beyond functional boundaries
Sensitivity and openness to the perspectives and suggestions of others
Owning up mistakes (and not hiding them)Proactively reaching out for help and to keep others informed
Creative Problem Solving means;
Encouraging out of the box thinking
Challenging the status quo and being open to new ideas
Being solution-centric instead of problem or person focused
Accountability means;
Empowering people to take decisions related to their work
Coaching & providing support to the employees to deliver while resisting upward delegation
Taking empowerment (taking decisions where empowered instead of pushing things up)
Taking greater accountability as we will be responsible for delivering what we have committed to do.
End result Orientation means;
Keeping the end results constantly in focus as opposed to paying attention only to the activities
Evaluating each activity from the point of view of if it will take us closer to the end results
Enabling the achievement of the overall business objective as opposed to looking only at one's task
Organizational Ownership
DFPCL believes in encouraging its employees by providing them ample opportunities to showcase their skills, experiment and learn from mistakes and share perspectives in a highly transparent and collaborative environment. We support our employeesto reach for their personal and professional goals by enriching their work scope, sponsoring their up-skill educations, and supporting their personal achievements. We believe in enjoying the work we do and create a liberating work environment that gives our employees, aplatform to refresh and re-channel their efforts effectively.
Work Culture
DFPCL is a nurturing organization, and is committed towards the well-being and growth of its employees. It is our privilege to be home to some of the best minds in the industry and we work on transcribing their learnings into structured training programs that empower our employees to excel in their endeavours.
We take on a mentorship approach with our employees and believe in hiring the skill and refining the potential to excel in all aspects of life. We take an active interest in our people's ambitions by creating open communication channels for gathering feedback and understanding needs to build a more enriching and motivating work environment.
DFPCL has in place multiple employee feedback forums where our people come together to share their feedbacks and concerns with their peers, supervisors and management and work as a team to identify improvement areas, and design individual career paths for our people to reach their desired ambitions.
We have been continuously evolving to benchmarked ourselves to the best in the industry when it comes to HR and Leadership practices and align them to business strategy.